Towards perceptual accuracy in 3D visualizations of illuminated indoor environments
Michael J. Murdoch

1

Email author

,

Mariska G. M. Stokkermans

1 and

Marc Lambooij

1
Journal of Solid State Lighting
2015
2:12
Received: 9 September 2015
Accepted: 14 December 2015
Published: 29 December 2015
Abstract
Through a series of experiments, we have measured the extent to which 3D visualizations of a variety of lighting conditions in an indoor environment can accurately convey primary perceptual attributes. Our goal was to build and rigorously test perceptually accurate visual simulation tooling, which can be valuable in the design, development, and control of complex digital solid-state lighting systems. The experiments included assessments of lighting-related perceptual attributes in a real-world environment and a variety of virtual presentations. Iteratively improving choices in modeling, light simulation, tonemapping, and display led to a robust and honest visualization pipeline that provides a perceptual match of the real world for most perceptual attributes and that is nearly equivalent in perceptual performance to photography. One persistently difficult attribute is scene brightness, as observers consistently overestimate the brightness of dimmed scenes in virtual presentations. In this paper we explain the experimental 3D visualization pipeline variables that were addressed, the perceptual attributes that were measured, and the statistical methods that were applied to evaluate our success.
Keywords
3D visualizationSimulationRenderingLightingAtmospherePerceptionPerceptual accuracy
Background
Human-centered illuminated environments are developed through creative steps, including optics design, luminaire architecture, lighting design, control system optimization, and scene authoring, as well as essential communication with clients and/or suppliers at each stage. All of these steps can become clearer and more concrete with a trustworthy visual preview of the resulting light distribution, in the context of a detailed scene, including the compound effects of multiple light fixtures. Yet, while 3D visualization is ever more common in architectural interior design, it typically remains an artistic tool to convey impressions rather than a simulation tool to convey reality. There is a need now for accurate visual simulation tools designed for lighting – indeed this is true regardless of the lighting technology employed, but it is especially valuable given the design freedom in terms of form factors and light distribution offered by digitally-controlled solid-state lighting. As designers and users are discovering new ways to use flexible light sources, the conceptual value of virtual prototyping becomes clear and reliance on simulation and preview will only increase.
The goal of this paper is to summarize research conducted to assemble and evaluate a 3D visualization pipeline optimized for perceptual accuracy in the presentation of lit indoor environments. A series of experiments was conducted which show that properly-prepared virtual, on-screen presentations of rendered 3D visualizations of a lit environment can result in observers' assessments of relevant perceptual attributes which correspond closely to the assessments made of a similar environment in the real world.
Prior work
Computer graphics has made continuous progress in accuracy and efficiency since the advent in the 1970s of raytracing [1, 2], which essentially simulates the transport and material interactions of photons or rays of light in a three-dimensional virtual scene. The concept is simple, but practical reality is slow and memory-intensive, so while for decades people have understood the problem to be solved – the "rendering equation" [3] – making usable visualization and rendering systems has typically entailed taking practical shortcuts with the lighting simulation. Because of this, lighting has historically been a specialized application of visualization and simulation. RADIANCE [4] for many years stood alone as a lighting-oriented visual simulation tool, used especially successfully for daylighting and fenestration applications. Recently, progress in both processing speed and algorithm efficiency has made physically-based lighting simulation much more mainstream, with the software market including a variety of efficient offline rendering software packages (Indigo, V-Ray, Corona, Octane) and real-time graphics engines for gaming and virtual-reality presentations (Unreal, Unity, Brigade) relying on a mix of rendering algorithms including path tracing and photon mapping. Presently, it is possible to efficiently, physically simulate lighting in indoor illuminated environments at a level of quality where concepts of photorealism and perceptual accuracy can be discussed and measured.
Beyond the physical accuracy of a simulation engine, many other aspects of image creation and presentation affect a viewer's perceptual impression of a scene, notably aspects of display dynamic range and image tone compression. The real world and accurate simulations thereof typically include many log units of intensity range from the darkest shadow to the brightest light source or specular reflection. Such scenes are often described as high dynamic range (HDR). The real world is HDR and the human visual system is very good at adapting to different intensity levels both within a scene and over time. However, electronic displays, prints, and other media are unable to fully show HDR intensity ranges. With these media, compression of image intensities is required, regardless of whether the image source is general photography or a lighting simulation. Tonemapping operators (TMOs) are algorithms or systems that accomplish intensity range compression: some are designed to mimic human adaptation; others simply behave like camera autoexposure systems.
A number of researchers have assessed the fidelity of virtual representations of real spaces. Drago and Myszkowski made direct comparisons between a real architectural interior viewed through an aperture and renderings shown on a display [5]. They found that the perceived fidelity of photographs was best, nearly approached by renderings carefully crafted by an artist to match the scene. Realizing the importance of display dynamic range, they noted that the limitations in displayed highlight and shadow regions were the weakest aspects of their images. In research published by Villa et al., the effects of light simulation engine, TMO, and post-processing corrections were studied using renderings of artificial lighting in interior scenes [6, 7]. Overall they found a good match between real and virtual scenes, though they observed that TMO had a strong effect on the perceived realism of displayed images. Recently, Schielke measured good correlations between real and virtual scenes for brand image studies that included visual characteristics spanning lighting (brightness, uniformity, etc.) and marketing (price, style, attractiveness, etc.). His paper does not emphasize the details of image preparation and tonemapping, but apparently he excluded high-luminance light sources and specular reflections in the presentations while using relatively low-luminance projection and web-based uncalibrated displays [8]. Other authors have conducted visual simulation-based lighting research. Newsham et al. used a simulated office space in an experiment that employed a genetic algorithm to optimize the attractiveness of the luminance distribution on scene surfaces [9].
We have undertaken an in-depth study of the effects of relevant simulation creation and image presentation variables on perceptual accuracy, comparing perceptual results acquired in a real environment with those acquired using virtual environments. Some parts of this corpus have been presented previously [10–13]. The present paper brings this whole set of experiments together with new insights and includes a meta-analysis of the importance of all 3D visualization pipeline variables studied. It is a detailed extension of the summary presented at the SID/IES Special Lighting Track, SID 2015 [14].
Methods
The methods employed in this research included direct assessment of perceptual attributes of artificially illuminated indoor scenes, both real-world baseline environments and rendered virtual presentations. Through a series of experiments using virtual presentations, key components of a 3D visualization pipeline were varied in order to determine their influence on perceptual accuracy – the similarity between the perception of the virtual stimuli and the real-world stimuli – in order to create an optimal pipeline. The perceptual attributes of interest, the procedures for the real-world and virtual experiments, the creation of virtual stimuli, and the statistical methods are described below.
Results and discussion
The results from each experimental pipeline variation included in the experiments were aggregated and analyzed using LMM. Note that for the LMMs we merged the data from repeated presentations of the same pipeline variations: specifically the group A, E and I and the pair O and S. Statistical analyses on the pre-merged presentations revealed very few differences, a single significantly different attribute in each case. We judged this as representing random, rather than structural variation, and treated the merged data sets as if they originated from single experimental presentations.
The results given in Table
3
outline marginal mean differences (on a 1–7 scale) between the baseline experiment and each virtual presentation for each of the ten perceptual attributes, after accounting for the modeled LMM factors. Shaded cells indicate situations in which the LMM analysis found a significant difference (
p
 < 0.05) between real and virtual, unshaded indicates no significant difference. Table rows are sorted in order of decreasing average absolute mean difference, so worst-to-best by that measure.
Marginal mean difference with baseline

Presentation

Model

Renderer

TMO

Display

View

Pleasantness

Brightness

Diffuseness

Contrast

Uniformity

ShadowVis

Coziness

Liveliness

Tenseness

Detachment

Avg. Abs.

C

Orig

LT

Rein

Ph42

Static

1.04

0.20

−0.13

1.18

0.08

1.55

0.57

0.50

0.02

0.78

0.61

D

Orig

LT

iCAM

Ph42

Static

1.14

−0.19

0.10

0.38

0.29

0.89

0.69

0.43

−0.19

0.73

0.50

B

Orig

Ind

iCAM

Ph42

Static

−0.22

0.39

0.41

0.85

0.57

−0.76

−0.02

−0.38

−0.36

−0.48

0.44

G

Orig

Ind

Rein

HB

Static

0.30

−1.18

−0.03

0.37

0.12

0.09

0.07

−0.36

−0.32

−0.71

0.35

J

Orig

Ind

Rein

NEC46

Static

0.57

−0.36

0.07

−0.18

0.28

−0.11

0.56

0.22

−0.43

−0.56

0.33

L

Update

Ind

Rein

NEC46

Static

0.16

−0.59

−0.26

−0.29

0.15

−0.41

0.07

−0.13

−0.42

−0.66

0.31

H

Orig

Ind

Lin

HB

Static

0.21

0.11

0.47

−0.24

0.85

−0.08

0.06

0.11

−0.27

0.09

0.25

A,E,I

Orig

Ind

Rein

Ph42

Static

−0.16

−0.32

0.20

0.31

0.38

−0.12

−0.07

−0.21

−0.12

−0.34

0.22

Q

Update

Ind

Rein2

Proj

Static

0.23

−0.52

−0.10

0.13

0.21

−0.14

0.39

0.08

0.12

−0.37

0.23

R

Update

Ind

Rein2

Proj

Pano

0.16

−0.76

−0.23

0.30

0.22

0.02

0.21

−0.07

−0.13

−0.09

0.22

O,S

Update

Ind

Rein2

NEC46

Static

0.11

−0.49

−0.03

−0.14

0.29

0.36

0.25

−0.17

0.09

−0.23

0.22

N

Update

Ind

Rein2

Laptop

Pano

0.20

−0.48

0.15

−0.10

0.36

−0.01

0.19

−0.18

−0.28

−0.12

0.21

T

V-Ray

V-Ray

Rein2

NEC46

Static

0.07

−0.43

−0.09

−0.24

0.21

−0.29

0.30

−0.09

0.00

−0.36

0.21

M

Update

Ind

Rein2

Laptop

Static

0.01

−0.39

0.22

−0.07

0.36

−0.16

0.19

−0.13

0.10

−0.14

0.18

F

Orig

Ind

Rein

3D

Static

−0.14

−0.17

0.19

−0.16

0.34

−0.10

−0.04

−0.05

−0.11

−0.35

0.16

P

Update

Ind

Rein2

NEC46

Pano

−0.03

−0.64

0.00

0.05

0.22

0.02

0.09

−0.37

−0.04

−0.16

0.16

K

Photo

-

-

NEC46

Static

0.02

−0.33

−0.19

−0.07

0.19

0.21

0.03

−0.06

−0.04

−0.24

0.14
It is immediately clear from the uneven distribution of shaded cells in the table that some variations (rows) perform much better than others, showing the impact of the pipeline variables under study. The worst variations are those rendered with LightTools (C, D), which were poorer in visual quality, as well as those using the iCAM TMO (B, D), which performs complete chromatic adaptation and thereby masks the color temperature changes in the scene. While the table is not in chronological order, the alphabetic order of our presentations over time exposes the trend that we have progressed from more to fewer significant differences over time. The table also shows that some attributes (columns) are apparently more difficult than others: for example, the Brightness column indicates significant differences in more variations than all other attributes, while the Diffuseness column shows differences in the least number of variations. Based on observed significant differences, high-level attributes such as Pleasantness and Coziness seem to be slightly better conveyed than physical attributes such as Brightness and Uniformity.
Arguably the best, the photograph presentation (K) has the smallest number of significant differences, only for Brightness, and also has the smallest average mean difference. The best-case virtual presentation was created with a pipeline of an accurate and updated scene model, Reinhard TMO, calibrated TV-size display and panoramic view (P). Hence, for these two presentations it is interesting to look more closely at the individual light conditions. Figure
5
therefore graphically depicts the difference in mean opinion scores (DMOS) with the real space for the presentations K and P per attribute and condition. Additionally, in order to systematically verify the added value of the panoramic view, we also included the static version of this best-case visualization (O). We do not include some other good performers such as the 3D display (F) and the laptop-based static presentation (M), simply to keep the figures and discussion manageable. On the figure, the red lines indicate a mean difference of +/−0.25 on a 7-point scale, the threshold computed for what can be considered a small Cohen's d effect size. The asterisks above the bars indicate a significant difference between each presentation and the real space, and the asterisks below the bars indicate a significant difference between the photos and the static visualizations.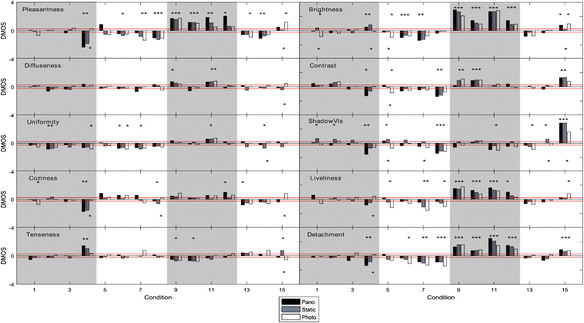 Looking first at which cases have the fewest LMM-based significant differences, photo appears best, with only 36 out of 150 comparisons different. Pano follows with 40, and static with 52. Since, as stated in section Statistical Analysis, lack of significance does not indicate that there is a match for the remaining conditions, we look at which cases have the most DMOS bars within the boundaries of small Cohen's d effect size. From this perspective, static is the best with 51 matches, followed by photo with 49 and pano with 34. Overall, these numbers showed that although two-thirds or more of the comparisons were not significantly different from the real space, roughly only one-third of the differences were small enough to be considered a match according to our Cohen's d small effect size threshold. Looking closely at Fig. 5, it is apparent that some lighting conditions match better than others. For many attributes the mean differences seem to be especially large for the dimmed light conditions (9–12) compared to the rest of the conditions.
Comparing these three presentations, photo can still be considered the best, with the fewest significant differences and almost as many matches as static visualization. Static conflictingly has both the most matches and the most significant differences, and pano simultaneously has the fewest matches and the fewest significant differences. Comparing static and pano, despite pano's good performance in Table 3, the Cohen's d conclusion is that static matches more conditions, especially for some attributes, notably Coziness. It is hard to conclude that there is value added by the look-around capability of the panoramic view.
Additionally, it is clear from Fig. 5 that the perceptual evaluations of the photographs behave similarly to both virtual variations. Looking specifically at the static case, while the LMM results show significant differences from the real space, they differ from the photographs in only 19 out of 150 comparisons. Hence, despite having differences with the real space, the static visualizations are nearly equivalent to the photographs.
In addition to the best panoramic (P) and the best static (O) virtual presentations in Table 3 there lie some other interesting variants worth looking at. The 3D presentation (F) performed well even without the model and TMO updates that helped in other cases, so it should be pursued further. The laptop (M,N in static and pano, respectively) presentations' performance shows that a small screen is not an obstacle to good perceptual presentation, a useful fact for portability, and the good performance of the V-Ray (T) presentation is a boon for rendering efficiency, with our admonition that getting good results with V-Ray requires some parameter fiddling. Going forward, it appears that visualization pipelines resulting in static or panoramic presentations using either Indigo (M,N,O,P) or V-Ray (T) renderers will provide robust results on TV-sized (O,P) or laptop-sized (M,N) displays. The additional expense (in terms of rendering time) of panoramic presentation may not be justified by the minimal gain in accuracy it seems to provide. 3D (F) is worth studying further with the caveat that it requires a specialized display.
Major effects of pipeline components
A basic question to address in this work is which pipeline elements have the strongest effect on the desired outcome of perceptual accuracy. This cannot be explicitly determined with the variable level choices and incomplete design, but indeed we have gained great insight into what is important. One way to look at it is that the weakest link limits the whole pipeline, somewhat analogously to how the worst component of an imaging system limits overall image quality. The physical simulation, including the models of the scene and light distribution, has an obvious effect on realism and affects not only scene accuracy (for example luminaires of the wrong shape or with incorrect light distribution), but also the intensity and contrast of the final image. We attempted to separate these effects – those of modeling versus those of presentation – by using photographs in one of our experimental presentations (straight photos, but nonetheless photos which included manual choices in overall intensity), and in so doing we verified that a photograph may indeed be considered nearly as good as ground truth.
If we focus on the presentation, the most critical factor is tonemapping, which is there to account for the dynamic range limitations of displays and affects everything from the intensity and contrast of the image to the sharpness of details. It also determines image intensity and color bias in terms of exposure and white balance, which are analogous to visual adaptation and thus are often intentionally partially corrected.
Looking at the perceptual attributes, brightness remains the most difficult to convey properly, despite its seemingly basic nature. This is presumably due in large part to the luminance adaptation capabilities of the human visual system, but it may also be cognitive. The brightness of some dim scenes is consistently overestimated. In discussion with experiment participants and experts, it seems that a low-intensity image may be interpreted as an underexposed image of a normally-lit room rather than a properly-exposed image of a dim room (see Fig.
6
). However, a bedroom might be more likely to be interpreted as dimly-lit than an office, based on experience in the real world. In ongoing experiments we are further probing the perception of brightness as a function of image intensity, scene context, and presentation viewing conditions.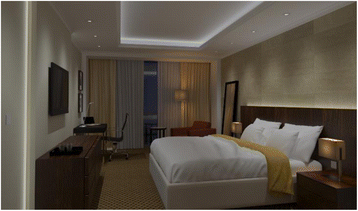 Display also has an important but not dominating effect on perceptual accuracy, at least with the range of displays we have available today. Imagining an ideal display for our purposes, a first wish would be for high brightness and high dynamic range (specifically, HDR with no spatial limitation, compared to what is typical today), which would likely obviate the TMO. We found with a high brightness display that linear tonemapping appears to perform better than the Reinhard TMO for relatively low-contrast scenes, but the display's dynamic range limitations prevented us from using it for general application. An ideal display might have luminance levels sufficient to create retinal afterimages and intra-ocular glare just as a real luminaire naturally would. Looking at a bare LED of a million cd/m2 leaves a visual impression that cannot be matched with today's displays, thus using simulations to judge visual comfort or glare remains out of reach. As an aside, we have experimented separately with modeled glare added synthetically to renderings and found that it does to some extent correlate with increased apparent brightness, but it never affects comfort or creates afterimages like increased physical intensity would. This remains an avenue for future research.
Secondary to HDR, an ideal display would also incorporate 3D stereoscopic full field of view for immersive interaction, hopefully less obtrusively than a head-mounted display, and a capable low latency real-time graphics engine behind it. Our 3D display presentation performed quite well even with a simpler scene model, and we would in the future explore the apparent advantage of stereoscopic presentation. Recent gaming engines are rapidly getting good enough to do accurate physical simulation of lighting systems, and mobile stereoscopic head-mounted displays are developing quickly. We have made first tests with such systems and believe they hold great potential. Once the human interface becomes transparent and intuitive, this kind of display system will flourish, and they will be very valuable for architectural lighting previews.
Critique of meta-analysis
As we mentioned in the Statistical Analysis section, our null hypothesis is that there is no difference between virtual presentations and the baseline real-world experiment. This could be considered worrisome because type-II error (false negative) is a favorable outcome for us, as it would seem to support our goal of a perceptual match between virtual and real. The real risk is that we might miss significant differences because we have too few observations or a sloppy experimental practice. It was with this in mind that we adopted the Cohen's d analysis.
Another way of looking at this problem might be a methods-comparison approach, as applied in daylight simulation research by Moscoso et al. [23]. They describe the application of the Bland-Altman method to find limits of agreement (LoA) [24]. At first this sounds promising, but in fact this method requires manually choosing a priori a mean difference threshold, essentially defining the size of a mean difference deemed important. In their work, Moscoso et al. chose a threshold of 1 unit on a 7-point scale, a threshold that would make all but 5 of our observed significant differences disappear, providing a very optimistic result. Picking arbitrarily we might have chosen a threshold of 0.5 units on the 7-point scale.
Any threshold is of course related to the size of the effects found, and we can conclude that even if we have missed something in the real vs. virtual comparison, it would be much smaller than the observed effect of lighting condition. Stepping back to the LMM results in Table 3, we observe that the largest non-significant mean differences in all the LMMs is 0.42 units out of the 7-point scale, indicating that any missed effect is likely smaller than 0.42 out of 7 points. This is quite small compared to the range of responses affected by the lighting conditions, as seen in Fig. 1, with observed ranges from 1 or 2 units for some perceptual characteristics up to about 6 for the most extreme (and note that for all perceptual attributes, lighting condition was found to be significant in our LMM analyses).
Future development
Future work could address a few points where our approach is not fully comprehensive. The presentation of brightness differences remains tricky and relies on manually chosen parameters in the Rein TMO. We have extensive experience in choosing these parameters, including a published study of how they may be influenced by the viewing environment [25], but we would certainly prefer a reliable objective way to set them. Our ongoing research continues to address brightness perception, for example in one experiment that directly compares perceived brightness matches between a physical luminaire and a displayed virtual luminaire, considering the limited display luminance, TMO parameters, and synthetic glare. In another recent experiment we considered an indoor environment additionally lit by both a wider range of artificial light and daylight, which of course increases scene luminance levels, where we found small but significant differences between real and virtual for Brightness as well as a few other attributes [13].
As advanced display technology and real-time graphics engines continue to develop, our 3D visualization pipeline may need to be tweaked to take full advantage of new capabilities. Positive improvements could be expected from virtual reality (VR), which could potentially improve adaptation effects through immersion and extreme FOV beyond the good performance we saw with a static 3D and panoramic presentations, and HDR displays, which will drastically increase the available display dynamic range and, as we expect based on our experience with a high-brightness (but not high dynamic range) display, simplify the TMO greatly.
Further research on additional perceptual attributes relative to lighting would also be welcome progress. Important aspects such as color rendering, spectral engineering, and glare have not been addressed, but they could be, especially with advanced displays, by following our methodology of proving perceptual accuracy.
Conclusions
Through this body of work, our goal was to build, test, and improve a perceptually accurate visualization pipeline for simulated images of lighting systems in context. Through a series of experiments, we have shown that we can create visualizations of lit environments that are practically as good as photographs in terms of accuracy for primary perceptual attributes, with very small differences in perceptual attributes as compared to a real-world environment. The most important factors influencing accuracy are the models behind the simulation, the tonemapping operator, and the display presentation. Display technology limitations mean some attributes such as glare and immersive field of view cannot be properly conveyed, but with our visualization pipeline physical lighting characteristics of a scene are generally conveyed well and higher-level attributes such as atmosphere are conveyed very accurately with some exceptions for dimmed lighting conditions. In general, Brightness remains a difficult attribute to convey accurately, due in part to the ambiguity of dimmed scenes and in part to the ability of the human visual system to adapt to different levels of scene intensity.
We have observed that any weak point in the visualization pipeline limits its perceptual accuracy, as in system image quality. We have iteratively improved our approach to ensure that visualizations are presented in as perceptually accurate a way as possible. Our success with this goal and insight into the factors affecting it continue to improve with ongoing experiments. We look forward to improvements in virtual reality and display technology that will improve luminance levels, dynamic range, and field of view. All of these will likely enhance adaptation and presence, as well as potentially perceptual accuracy.
Abbreviations
3D:

three-dimensional
3D:

Philips 3D LCD
ANOVA:

analysis of variance
BRDF:

bi-directional reflectance distribution function
DMOS:

difference in mean opinion scores
FOV:

field of view
HB:

high-brightness LCD
HDR:

high dynamic range
iCAM:

Kuang's iCAM07 TMO
ICBE:

Internal Committee for Biomedical Experiments
Ind:

indigo renderer
Laptop:

HP laptop display
LCD:

liquid-crystal display
Lin:

linear TMO
LMM:

linear mixed model
LT:

lighttools simulation software
MOS:

mean opinion score
NEC46:

NEC 46-inch LCD
Pano:

panoramic presentation
Ph42:

Philips 42-inch LCD
Proj:

projector
Rein:

Reinhard's 2002 photographic TMO
SSL:

solid-state lighting
Static:

static presentation
STD:

standard deviation
TMO:

tonemapping operator
Declarations
Acknowledgements
The authors would like to thank Ulrich Engelke, Bart Salters, Chris Damkat, Dragan Sekulovski, Pieter Seuntiens, and Shih-Han Chen for their contributions over the course of this work.
Submitted to: Journal of Solid State Lighting Thematic Series on SID Display Week SID/IES Lighting Track Lu & Larimer, Eds.
Open AccessThis article is distributed under the terms of the Creative Commons Attribution 4.0 International License (http://creativecommons.org/licenses/by/4.0/), which permits unrestricted use, distribution, and reproduction in any medium, provided you give appropriate credit to the original author(s) and the source, provide a link to the Creative Commons license, and indicate if changes were made.
Authors' Affiliations
(1)
Philips Research Europe, Eindhoven, The Netherlands