The importance of intrinsically photosensitive retinal ganglion cells and implications for lighting design
Journal of Solid State Lighting
2015
2:10
Received: 14 October 2015
Accepted: 17 December 2015
Published: 24 December 2015
Abstract
We reviewed the role of melanopsin-containing intrinsically photosensitive retinal ganglion cells (ipRGCs) in light-dependent functions, including circadian rhythm that is important for health and visual perception. We then discussed the implications for lighting design.
Keywords
MelanopsinipRGCPhotoreceptorsCircadianVisual perceptionColorContrast SensitivityHealthLightingLEDLighting Design
Introduction
In addition to rod and cone photoreceptors, there exists a third class of photoreceptors in the mammalian retina, called intrinsically photosensitive retinal ganglion cells (ipRGCs). IpRGCs were first discovered in mice in 2002 [
1
,
2
] and then in primates and human in 2005 [
3
]. IpRGCs express melanopsin, a photopigment with a peak sensitivity at ~482 nm (see Fig.
1
for human photoreceptor spectral sensitivity functions [
4
–
7
]. In addition to intrinsic melanopsin-mediated photoresponses, ipRGCs also receive synaptic inputs from rods and cones. The combination of melanopsin activation, rod and cone inputs enable ipRGCs to signal a large dynamic range of light levels in the environment (by a factor of 10 billion from dim starlight to bright sunlight) [
8
].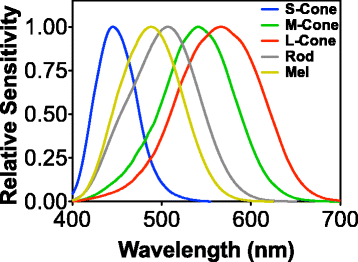 IpRGCs project to brain areas such as the suprachiasmatic nucleus (SCN) to mediate circadian photoentrainment [9] or the olivary pretectal nucleus (OPN) to control pupil light responses [10]. IpRGCs also provide light information to the pineal melatonin production system [11, 12] and sleep regulation system [13, 14], and modulate cognitive function [15], alertness (e. g. [16, 17]), body temperature (e. g. [18, 19]), mood and emotion [20]. Therefore, ipRGCs are considered to be the primary photoreceptors for sub-conscious non-image-forming (NIF) functions that are important for our normal biological activities and health. IpRGCs are also found to project to the lateral geniculate nucleus (LGN), the thalamic relay to the visual cortex, and therefore the melanopsin-based signal may also contribute to conscious image-forming (IF) vision [3]. Here we reviewed the importance of melanopsin activation on health, pupil responses and visual perception and the implications for lighting design.
Conclusions
Human biology has evolved in direct relation and dependence with natural sunlight. Since the intrusion of massive artificial light sources, such as computer monitors, TV, self-illuminated personal electronic devices, indoor and street lighting, this relationship has been altered. Melanopsin activation in ipRGCs is important for many aspects of human functions, such as perception, cognition, circadian rhythm, sleep, mood and has great impact on health. Therefore, it is necessary for lighting and display designers to consider the new discovery of this century to improve, or at least affect as little as possible, human quality of life and health.
Abbreviations
CIE:

Commission Internationale d'Eclairage
IF:

image forming
IGL:

intergeniculate leaflet
ipRGC:

intrinsically photosensitive retinal ganglion cells
LED:

Light Emission Diode
NIF:

non-image forming
OPN:

olivary pretectal nucleus
SCN:

suprachiasmatic nucleus
Declarations
Open AccessThis article is distributed under the terms of the Creative Commons Attribution 4.0 International License (http://creativecommons.org/licenses/by/4.0/), which permits unrestricted use, distribution, and reproduction in any medium, provided you give appropriate credit to the original author(s) and the source, provide a link to the Creative Commons license, and indicate if changes were made.
Authors' Affiliations
(1)
Visual Perception Laboratory, Department of Ophthalmology and Visual Sciences, University of Illinois at Chicago, Chicago, USA
(2)
Institute of Research in Light, Environment and Vision, National University of Tucumán - National Scientific and Technical Research Council, San Miguel de Tucumán, Argentina
Copyright
© Cao and Barrionuevo. 2015